We admit: as a creative agency, we live in a Hudson Valley marketing bubble. But 80 miles away, there's another region that ALSO has farm-to-table restaurants, creative businesses, environmentally-innovative products, swimming holes and hiking spots. It's called the Berkshires, and for a weekend, we let Instagram guide the way for us in Great Barrington, MA.
First, we collected a year's worth of social media data for Great Barrington, and figured out which locations had the most geo-tagged pictures. Posts by the organizations or business owners themselves were not counted. The result was a list of 13 places that coincidentally are photogenic, provide great experiences, and are popular with millennials and/or tourists.
The three things we noticed the most on our trip? 
"Package Store" is a thing; apparently stores that sell liquor are legally deemed that.
We saw terrariums everywhere. Some people felt it was because of Wenonah Webster of Bell & Begonia, who has run a number of terrarium workshops in the Berkshires.
EVERYTHING WE ATE was somehow tied to a local farm. It was even more than we're used to in the Hudson Valley.
We've done blog posts like this before, but we're going one step further on this one: we took our show on the road to Great Barrington for a weekend, and took our own pictures of what makes each location special.
Want us to come to your city, town or neighborhood next? Contact us to sponsor a blog post!
Here's the list:
(1323 photos)
The Berkshires are so much like the Hudson Valley, they even have their own Bard College! This one is an early college, and was around for a couple of decades before merging with Bard in 1979. Students can enroll after 10th or 11th grade, and stay for a two-year Associates of Arts or a four-year Bachelor of Arts degree. They also recently opened Bard Academy, which is billed as "high school on a college campus," and a successful string of seven Bard Early Colleges, which offer tuition-free early college education via public-private partnerships. We went on a rainy tour of the campus with Karen Anderson, their Associate Director of Marketing, and learned lots of interesting things:
Alison Bechdel (of the Bechdel test) is an alum
So are the Coen Brothers, and it's said that the bowling scenes in The Big Lebowski are based on Cove Bowling (the local alley)
Teachers and staff are addressed to on a first name basis
The campus used to be a farm, and they have a Center for Food Studies, which partners with local organizations and sponsors educational events on campus to promote sustainability
They have a dinosaur 
Even though they don't admit 30-somethings as students, we felt very welcomed on campus.
(505 photos)
Unfortunately, we couldn't get into the camp on the weekend we were in Great Barrington. Primarily a sleepaway summer camp for kids aged 8-17 (and a day camp for local kids aged 3-8), it's also a retreat center that's available in the off-season for private events. They're billed as "offering fun, immersive Jewish experiences that empower children, teens and adults to better themselves, their communities and the world."
(304 photos)
When we told people in town that Prairie Whale was the most-Instagrammed restaurant, they all pretty much said "well, obviously." This is because Prairie Whale is really, really good. The story here is that a former high-end Brooklyn restauranteur moved to the Berkshires, started farming in 2010, and then in 2012, opened a restaurant in a former cottage where many of the ingredients come from his farm.
In true take it or leave it fashion that only the best restaurants can pull off, this place doesn't even have a website (kind of like Elephant in Kingston). The only marketing they seem to do is with a roadside blue and white sign that riffs on topical subjects in campy fashion ("have ya seen this, have ya heard of this?").
We had a mind-meltingly good beef tongue appetizer, a ribeye steak with garlic butter, a pork shank, and some expertly-mixed cocktails while listening to a Spotify playlist of one-hit wonder songs like "Tainted Love." It was a really nice experience without being overly precious; taking a spin through the Instagram photos taken here shows people having a great time in a cool place.
(214 photos)
Lake Mansfield is a 29-acre pond and adjacent 29-acre forest that is a couple of minutes outside of town, right by the Simon's Rock campus. It's open for swimming, boating, picnicking, fishing, and hiking on a 3.5 mile trail loop.
It's looked after by the Lake Mansfield Alliance, which organizes lots of initiatives to keep the lake clean and the trails maintained. On April 29, there's a Lake Mansfield cleanup event! For more info, email [email protected].
(203 photos)
With dozens of beer mugs hanging from the ceiling, framed pictures of David Ortiz hitting dingers, and a menu offering rough and tumble items like the "Plowman's Lunch," you might say, "I get it, it's a New England brewpub." But it's actually the first brewery on the east coast to brew its beer using solar energy; last year, they added hundreds of additional panels that also power the main building and the adjacent catering/event facility at Crissey Farm.
(186 photos)
There's a theme in Great Barrington; almost all of the popular stuff involves farms in some way. In this case, this super premium product uses milk and cream from local farms and zero artificial ingredients like corn syrup. It started as an old-school scoop shop and and eventually grew into a packaged product that's wholesaled across the Northeast because it's so damn good.
Even though I'm lactose intolerant…
(177 photos)
Our visit to Great Barrington was off by a couple of weeks; Bistro Box doesn't open until early in April, and closes sometime around November. It's humbly self-billed as "a roadside eatery," but the drool-inducing grass-fed burgers, emphasis on local farms, and CIA graduate owners look like it's far, far more than that. It's our greatest regret that we didn't get to try it.
(139 photos)
This historic theater building was built in 1904 to replace a previous corner building that burnt down in a giant fire in 1901. Like many great old things, it was almost torn down in the 90s, but a resilient group of local citizens held on and raised over $9 million to restore the building while adding seating and accessibility features.
(125 photos)
Every food-related place on this list has some ties to sustainability and local farms, but this is one that's also Animal Welfare-Approved. Not only does it mean that you can be satisfied about where the food comes from, that level of conscientiousness also means that the food is likely to be really tasty. They have a constantly-changing, creative menu that evolves depending on what ingredients are locally in season or available. It was really fun to hang out at the bar and let Jane make us craft cocktails while we munched on roasted hen of the woods mushrooms and chicken liver mousse.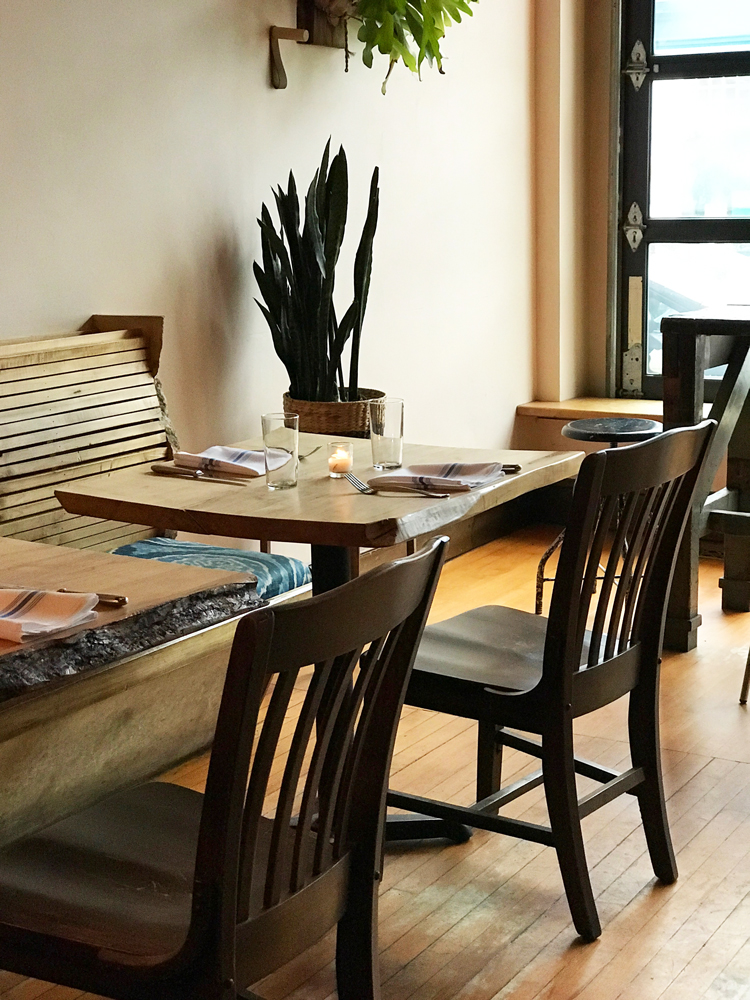 (120 photos)
Fuel has been a long-standing coffee shop staple of Great Barrington, but it's only been in its huge new space for about a year. It used to be in a smaller space across Main Street, but it took over the former Gypsy Joint space and expanded from just a coffee and sandwich shop to also being a venue for live music. We came in and out several times over a weekend and it looks like it's the community meeting spot that every downtown needs, and it has addictive fair-trade Barrington Coffee Roasting Company brew.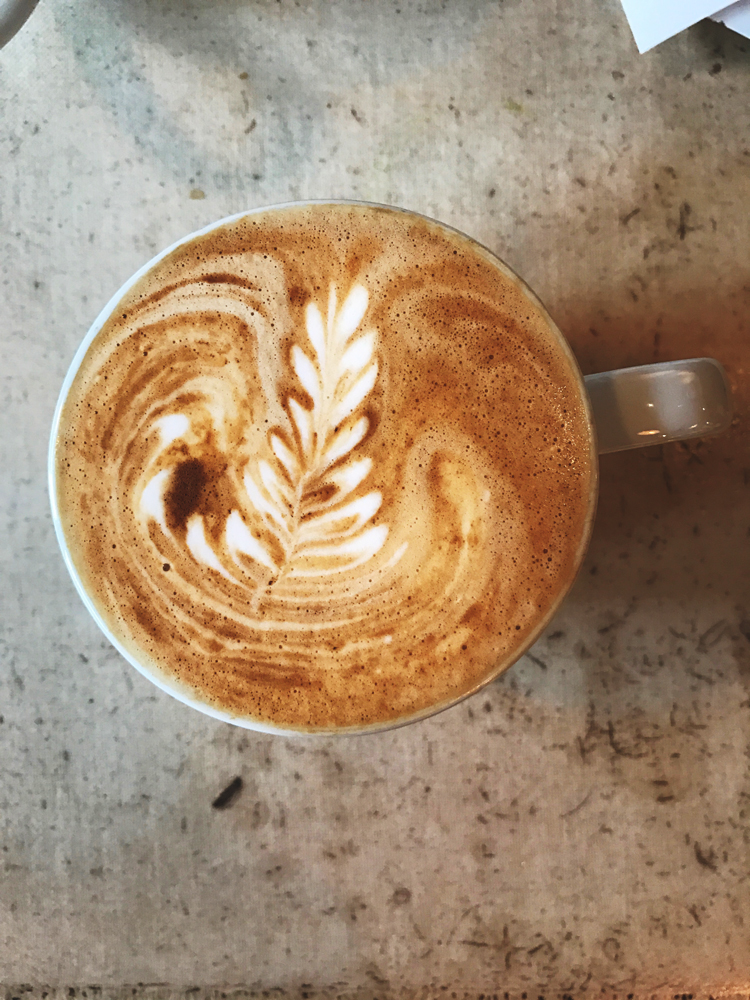 (89 photos)
This producer-only market has been running for 28 years, and takes place on Saturdays ½ block away from Main Street. It starts up in mid-May, so we missed it, but the vendor list looks like it's highly representative of the region. You literally could start the next Prairie Whale or Allium if you shop there.
12. Green River, Great Barrington
(89 photos)
Although it's called "Green River" on Instagram, people are really referring to a four foot deep swimming hole that's "beneath the cascade of the Green River". You know it's a good swimming hole when it's not clear where exactly it is; Google Maps took us to a random driveway on Route 23, while Instagram's geo-tag took us to a country club parking lot on a backroad. We never did find it.
There were a bunch of places that all had around 70 photos over the last year, but we only had time to go to one. We settled on Baba Louie's to make sure this location is as good as the one in Hudson. It is: this pizza had us saying "dayum, dayum, dayum!"
Where should we go next? Let us know if you'd like to sponsor a blog post for your town or neighborhood!
About Kingston Creative
We are a creative and strategic agency located in the Hudson Valley. Check out our portfolio to see examples of our branding, marketing and web design services, or just hang and read some of our blog posts about local marketing. For the methodology of this article, check out our guest post in Search Engine Journal.