Social media influencers are everywhere, both in the Hudson Valley and in your news feed. We interviewed 12 local ones, and learned how they're using storytelling, original content and authenticity to make a name for themselves while having a real-world impact, in the worlds of food, travel and exploration, civic engagement, fashion, and cats. They're not just making a living, but publishing books, saving animals' lives, building communities, and driving real change on things that matter to them.
Their secret sauce is part of what's transforming content marketing and web design today: our society is craving more authenticity, more stories, and fewer cheesy BUY NOW sales pitches. When we open Facebook, Instagram, Twitter and Snapchat (an average of an hour and a half a day, no matter how old you are), we're hoping to see content from people like this; not ads.
Before we get to everyone's stories, there are two big takeaways for organizations and brands of all sizes that we want to point out:
Getting started is way easier than getting good at social media
It's free for anyone to get started with content marketing and social media, but it takes a major investment (time, effort & money) to both create interesting content and build an audience that will actually see it and care about it. Effective content marketing is a secret weapon for businesses that figure it out, and it's why content marketing is expected to double as an industry by 2019. We believe in it so much that we've built our company on it. Find out more.
Don't try to beat influencers at their own game. Partner with them.
It's a huge, undervalued opportunity compared to traditional forms of advertising. In many cases, a sponsored post with an influencer can be more impactful than a full-page ad in a magazine or a billboard. You'll get exposure to their trusting audience and a valuable SEO link that never goes away.
Food Influencers
Who: Amber Spiegel, a Kingston, NY-based pastry artist and baker. In 2012, she launched a website and social media accounts where she shares cookie decorating videos, tutorials and recipes.
Why: After I finished culinary school at the CIA in 2007, I decided to make a batch of cookies. My mom said, "These are awesome, you should open an Etsy shop and sell these online!" People started buying them, and at the same time I started posting pictures of the cookies on my blog, and it kind of grew from that. After a while, people seemed to be more interested in learning how to make the cookies instead of buying them, and I also realized you could make money on Youtube with ad revenue, so after a few years of selling cookies, I ended up dropping the Etsy shop altogether in 2012 to focus on creating video tutorials and teaching classes.
A-ha moment: An early video about how to flood a cookie, which is the most basic of the basic techniques. I had no idea it was going to be popular.
Pro tip: I'm gearing more towards time-lapse videos, and away from full-length videos for Youtube. I'm really focusing on making short 60-90 second videos, they seem to get millions of views with a couple of days. To repurpose content I've been taking old Youtube videos and cutting them down for Instagram and Facebook. I'm also trying to just make 2-3 cookies for a video to save time.
Looking at stats: I look at the view counts, but I don't get super excited about it, because I just need to focus on making the next video and next video. I don't use the view counts to decide on future things, I always just make what I want to make, and that's why the videos work.
Advice for brands: If you want to work with someone with sponsored content, you have to be willing to pay them for their time. I have a rate card that I send out if someone asks, but it also has to be a product I believe in and something that will look good as a cookie.
(Example: SweetAmbs partnered with Movado to make a series of videos based on their Esperanza Collection.)
Inspiration: I take suggestions from my commenters, and Target always has trendy patterns and prints on their gift wrap. I'll go look at their gift wrap section and see what's happening over there. But really, whatever's popular online that would make a cute cookie I'll try it.
Gear: It's really not hard to get set up and start experimenting with creating video content. Up until recently, I was filming on my iPhone with a small tripod. I use natural light in my studio at the Shirt Factory. I always edit on the computer with Adobe Premiere.
What's New: Amber contributed to our cats-and-dogs themed coloring book, which is available now in our online store! 10% of the proceeds go to Heart of the Catskills Humane Society in Delhi, NY.
Who: Brandy O'Neill, a Poughkeepsie, NY-based blogger who shares her love of sweet and savory food recipes, travel, bourbon and cats on her site and social media accounts.
Getting Started: I started my blog in 2009. I was Googling a recipe one night, when I stumbled upon a food blog. There was just someone making recipes, and people were reading them and leaving comments. I was like, this kind of sounds fun. I enjoyed cooking, I had no concept about how to run a blog, and it was legitimately a hobby for a long time. My day job was as a nanny; I switched over in 2013. I didn't have a set schedule, I didn't start the blog with the goal of taking over the world or anything. I think a lot of people start a blog with the goal of doing something big.
A-ha Moment: I had this really big recipe back in 2011 maybe; it was cheesecake-stuffed strawberries. I like to think in my head that I invented it; now they're sort of all over the Internet. It got really really popular, but I was realizing that something I made could reach millions of people. Before then, it was just a closeknit group of people actively looking at my blog. I was like wow, all of these people are reading my site and making my recipe. I slowly started getting messages from people who want to work with me. The first time I got paid, I was like oh my god, I can get paid to do this!
Working with Brands: I try to be picky about who I work with, and I love to work directly with companies if possible instead of going through a third party. Sometimes the message can get lost between people, so that can be frustrating. The big thing is being clear with what you want up front. If you want me to re-shoot something, I have to re-make it, re-shoot it, re-post it. I also like when people are up front about the budget… I'm not asking for a million dollars, I'm just asking for fair pay. I'm usually able to do something in a smaller capacity and still provide value.
(Example: Brandy partnered with IZEA and used their Sparking Ice to post a recipe for Peach Tea Bourbon Slushies).
Different Social Networks: It's a little exhausting. I used to go on Facebook just to go on Facebook, I used to pin things on Pinterest, but now I don't ever want to go on there, because I always have work to do on there. I'm kind of tired of seeing food all the time.
Looking at "The Stats": I definitely check analytics to see how I'm doing. I try to not check a lot, because you can get up in this thing where you're checking every minute. "20 less people came than yesterday!" You can get obsessed and weird and no one likes that. I try to check once a month to see if I'm generally doing ok… if I see a problem, sometimes I'll bring it up to other people.
Gear: I work at home in my home office. My photos are taken in my dining room; I have a farmers' table that you can see in my photos, with some wooden backdrops. I have a canon 6D camera, about 3 lenses, and a tripod that I use occasionally. I only shoot with natural light, so I don't have big lighting setups. I also eat all of the food that I make, so there's nothing staged.
Evolution: I always have little things. I'm trying to incorporate more video with my work. It's hard to know if video is the wave of the future, or is it going to fizzle out.
Dealing with Comments: I feel like there's always the crabby people who message me and say "stop saying your stupid story and give me the recipe!" There are crabby people everywhere. But I try to stick with my guns in making recipes that sound good to me. It's a balance between doing what I want and doing what people will respond well to.
Living in the Hudson Valley: I get a lot of inspiration because there are farms by where I live. Seasonal greens are really big for me. I just made a goat cheese and fig pizza with caramelized onions. Living in a place like this makes it pretty easy: there are a lot of choices and options for quality ingredients.
What's New: Brandy just posted a recipe for "Chocolate Raspberry French Silk Pie Bites," which look amazing.
Who: Alecia & Tom Eberhardt-Smith, who live in Kingston, NY and run their creative agency Eberhardt Smith in Saugerties, NY.
Why: Tom: It started as a way to maintain creative stimulation where I was living in my parents' house in New Jersey in 2012. I was working on lots of different creative projects and photo projects, and there were a lot of simple Tumblr ideas I had. One was mugstache, where people are just putting a mug in front of their face like a mustache. It got like 7 or 8 thousand followers, but it never took off like Diner Porn did.
Starting Out: Alecia: Tom told me he had this project he was working on. We both grew up in diner-saturated culture, I grew up on Long Island, so we started working on the project together. It felt very natural to work on the project in unison. We'd go to the place, Tom would take the photos, and I'd observe and take notes and talk to the owner, and write a little vignette to accompany Tom's photos.
A-Ha Moment: T: There was a night where we went from a couple hundred followers to 14,000 followers. At that point, we were like, oh wow, people feel the way we do about diners, so we knew we had to get our shit together and create some more.
Evolution: T: The big jump was also right after we developed a format for the posts, which was good to have continuity and uniformity of what you're doing. It started out with a picture of the exterior of the diner, and a mug, or a waitress. Then Alecia started writing the stories. We had to get into that rhythm. So when that guy scrolled through it, it looked like a finished product. Since then, the blog itself has not changed much.
A: This was the first thing we ever worked on, and as we turned into a company, we pretty much maintained similar roles. Tom always does visuals and I always do words. This was for sure the catalyst of us thinking about working together professionally.
Audience: T: People just love breakfast food at diners. Breakfast food is the #1 thing, pancakes, waffles, eggs, depending on how they're cooked. If it's too raw I can't post it. We were trying to also capture the people and the portraits, it was something we'd try really hard to get people into. But we've succumbed to the masses. The Roman coliseum has called for breakfast shots.
A: It's definitely a balance, we try to get food photos, and capture something specific about the atmosphere the environment, the vibe.
Advice for Brands: T: They (diners) should be reaching out to more people like us, because we're very approachable, and we're willing to do all of these things. We're committed to storytelling. There's an assumption that everything is going to cost them money, but if they're willing to open their arms to a storyteller, we're willing to come in and see what's going on. It could be a great two-way road. The quality is directly related and correlated to how open they are. The nicer the diners were, the more open they were to our ideas, the better the content came out. The ones who reached out to us were the cover of the book. They allowed us that extra time to be creative, and they were creative with us.
Future: A: We did a Kickstarter for the book, and raised enough money, and we went on a month-long road trip of the Northeast, Southeast and Midwest. We went from NY to NO along the coast, and back up through the midwest. Our goal was to hit a diner in every city, and some suburban areas. A lot of the ones in the cities have been written about a million times, so we tried to find something a little bit new with everything. The cool thing about the book instead of the blog, is that it's a very different experience for people sitting down to read a book instead of the blog.
T: It's interesting, because we used this project as an inspiration for all of other projects. Diner Porn has been a larger than life idea that we're trying to hit with other brands.
What's Next: You can't buy the self-published version of the Diner Porn book anymore, but you can follow them on Tumblr to find out when their 2nd edition (details pending) is coming out for a wider release.
---
Travel & Exploration Influencers
Who: Liz Cooke, a professional photographer and health care worker based in Rhinebeck, NY.
Backstory: I'd been a photographer for many years, but I put it down for a long time. I went into advertising as a creative director and copywriter, and moved up here from the city. Around that time, I started shooting with my iPhone.
Starting Out: Four or five years ago, I drove on Route 9 and drove into the entrance of the Hudson River State Hospital. The gate was open and I just drove in. You feel the excitement in your bones and in your heart, of being in this very forbidden place. It was really forlorn, really abandoned. I had my iPhone, and I knew I had minutes. I just started shooting, posted them on my personal Facebook page, and we were off.
Why: Many of these buildings and old resorts are being knocked down. The Hudson River state hospital is being developed, it's completely boarded up. It's such a shame… there is an urgency to take pictures now. Any sense we have of being chroniclers, or making some sort of documentary on these places has only increased.
On Copycats: We're determined that people understand we're a photography space, not a breaking into places space. We don't want anyone to do anything stupid and put themselves in harm's way for a picture, we don't consider this an extreme sport. If you take a beautiful picture, take it safely. If you can get permission, please do. One time, we asked and a caretaker just let us into an old sanitorium. Some places you simply can't, there's no one there.
A-Ha Moment: After my first post (the Hudson River State Hospital) was successful on my own page, I started taking more pictures in more places, and made a new Facebook page called Abandoned Hudson Valley. Within a few days, I had 4,000 likes, or followers, or whatever the heck they call it. I saw the reaction immediately, and the numbers blew my mind, there were so many people. It was such an engaged, lively, spirited place. People were curious, and I got to know people who were doing similar things.
Looking at Stats: I absolutely cannot look at the stats. That was definitely part of the evolution. from then till now, there are sort of different metrics, and different ways to see how we're doing.
Working with Brands: If a marketer would want to work with us, they'd have to have a really open mind about figuring out with us who they're really talking to. We can make assumptions: we get people who are really into the Hudson Valley, photography and local history. If a marketer wants to just take a chance with us, and see how it goes, that works for us.
The Future: You can work in any major institution, and wonder, is this place going to be abandoned? Almost any place that doesn't think about the next 100 years, and just builds for the next five years, is going to be abandoned at some point. Schools, churches, private homes, they're all at risk, because they were built in such a short-sighted way. Churches from 100 years ago are being abandoned because there's no parking. Certainly farmhouses are at risk because many are built in areas that have now become really ugly, across from shopping centers. Malls are already abandoned: there's a great one in Fishkill that was built on the site of a very important Revolutionary War depot, and now it's basically done.
What's new: Abandoned Hudson Valley recently partnered with Hudson Valley News Network to tell the story of Grossingers Resort in Liberty, NY.
Who: Mike Todd, a technology worker and dad based in Poughkeepsie, NY.
Why: I moved to Poughkeepsie in 2001, and I didn't know anyone here or the area. I bought a couple of trail guides and started exploring the area; it seemed like you could go any direction and find something awesome within an hour. In the last few years, I started revisiting these old hikes with my son, and I started looking online for resources and more information. Scenic Hudson has some great documentation for their hikes and maps, and NY/NJ Trail Conference has great resources out there, but there was no one place to gather it all together. Traditional trail guides from bookstores tend to be kind of dry, and I really like to see lots of photos so I know what I'm getting into.
Getting Started: I wanted to put out the kind of information that, as a hiker, I was always looking for: plenty of pictures, trail data, details and bad jokes. I got 25 trail guides together before I launched the website. I was like man, this is hard work, is anyone actually going to use these?
A-Ha Moment: You have to get 25 "likes" to get your own Facebook URL, and when I started posting site-related news to Facebook, I was like man, how am I going to get 25 followers? But people started using the site, and it just grew by word of mouth and through search engine traffic. Now the Facebook page has over 7,000 followers and the site itself gets more traffic than I ever could have imagined. It makes me happy to have stage fright posting on my own page. It's also gratifying to see comments from people who are getting out and exploring these new places, or getting into hiking for the first time. Sometimes they live right next to these gorgeous natural places and never knew about them.
Evolution: I keep plunking away at it and adding new guides as I go. There are 70 guides out there now, with a new one coming soon. I used to try to keep them as brief as possible. I figured people wanted to just know the information, but I kept getting feedback, people seemed to like the details. If I can spice them up with some of my bad humor, people seem to like that. If you look at the progression of trail guides, the newer they are, the more likely they are to scroll on for 30 pages.
Looking at Stats: I try not to obsess over the stats, but I do look at them at least daily. I'm really happy to see the trend going up year-to-year. When I'm traveling, I can tell if the weather is good in the Hudson Valley through the web stats – traffic will drop off on cold or rainy days.
Working with Brands: I put it out there in our FAQ, if there are any interested local businesses, I'd love to replace some of the Adsense ads with more ads for local businesses, especially ones located near traiheads!
Dealing with Feedback: The comments help keep the guides up-to-date, so they are kind of crowdsourced in that way. If I see a comment come in where someone got lost or a trail marker is changed, I'll mark the updates in the trail guide right away. This is a big benefit of online trail guides – you don't have to wait for a new edition to get the most current information.
The Future: I've been focusing on getting more hikes on there. I have this arbitrary goal of 75 trail guides, though I hope to keep cranking them out after that. I certainly won't run out of material anytime soon. It's great to live in a place where I have a never-ending to-do list of new places to explore and new hikes to document.
What's New: Hike the Hudson Valley's latest guide was for Beebe Hill Fire Tower, a two mile hike near the NY/Massachusetts border in Austerlitz.
---
Civic
Who: Rebecca Martin, singer/songwriter and community advocate/co-founder of Kingston Citizens in Kingston, NY.
Why: One of my passions is organizing people on the ground, and opening up discussions on current issues. In doing so, there is a group effort in finding solutions with the creation of small projects or initiatives that can really pack a punch. It's important that at the beginning of any effort, the citizens are successful and feel empowered to continue on – as today, we need all hands on deck. The first of those small issues was a large display case of dangerous looking knives being sold in a Citgo station in our neighborhood. I had no luck with the owner who refused to answer any of my questions. It was then that I learned that I lived in a ward (or district) and had an alderperson. I approached him at that time without any luck. So, I took matters into my own hands and got the word out by going door to door. I set up a community meeting where 100 people showed up. That number of residents can cause a stir, and the then current mayor and chief of police attended and listened; the next day, the knives were confiscated by the police, where it turned out that half of the case of knives were actually illegal weapons. It was thrilling to witness democracy in action like that. I was hooked and wanted to apply my organizing skills to improve my community to do even more.
Evolution: KingstonCitizens.org began as a Ward 9 community group, very specific to our neighborhood using a Yahoo! group platform to communicate which was really new back then and really big. Over the course of a year, more citizens wanted an organized Yahoo! group, too. It organically morphed into a citywide citizen initiative where we built Yahoo! groups for every ward in the City of Kingston. The work was focused on helping citizens come to know their ward, the issues in their unique neighborhoods and who their alderperson was. Over the course of the technology shifts, we went from a Yahoo group to an HTML site, and finally to a WordPress blog (with the help of Arthur Zaczkiewicz) which is how we communicate still today.
A-ha moment: In 2014 during the Niagara Bottling proposal when we first posted on our Facebook page, I was hoping that maybe 40 or 50 people would come to the next common council meeting at City Hall. Instead, more than 400 people showed up, and thousands wanted to know what was going on within a handful of weeks. Our crew was grateful that the subject inspired that many people and through hard work to share as much information as we could about each step of the process, we built a solid coalition of important partners, too. Everyone understood why selling municipal water to a water bottling company in this day and age was a bad idea. You just never know when something is going to really speak to the public like that. Water really did.
(Editor's Note: As chronicled in the New Yorker, Kingston Citizens led an effort to bring transparency to a recent proposal by Niagara Bottling to access the City of Kingston's water supply. The proposal was dropped after several months. In November of 2015, a ballot referendum was passed in the City of Kingston by a vote of 3,625 to 737 that gave the Common Council and mayor the final say over sales of water to outside entities.)
Pro tip: You need to tell a stories and create a digital paper trail. You can click on Niagara Bottling on our site for example and see exactly what happened from beginning to end. Something like 116 instances to read in just five months time. That in itself is a huge education, and I think telling the story day-to-day based on what's in front of you helps the public understand the process better while making it accessible and less intimidating. Telling the story has worked every time for us so far, which says something, right? Storytelling is an ancient way of relating to one another and the internet tools have simply modernized it.
Funding: We are a volunteer based organization and have been so for a decade now. We are beholden only to the public good. This gives us the freedom to move as quickly or as slowly as we need to. Funding would allow us to build a consistent team, however where we could get a whole lot more done. I think it's inevitable, but the timing has to be right.
Audience: Different issues bring out different groups of people. The teams that are assembled, supporters, dissenters all change depending on the issue. With Niagara Bottling, the team was diverse as it really was a proposal that would have impacted many communities throughout the lower Hudson Valley. With the recent shooting range location in Midtown, an almost entirely different group of citizens came to the table to help with research and strategies. In order to build a base, you have to build trust and to do that, you have to be consistent, and set a professional tone to the best of your ability that speaks to everyone – and especially the middle. Those who haven't yet taken a position. That's really an art. I am motivated by those who are newly engaged and taking responsibility for how their government works and acts. Along with a blog, we've hosted a couple of hundred meetings over the past ten years. Many of Kingston residents who need to be advocated for the most are not online. Social media is a tremendous tool, but it can't all be done there. Human beings also need to interact with one another. That is where true community building occurs.
Future Plans: Although we are ten years in now, I would like to create a sustainable platform with funding and civic education being at the forefront. It might be KingstonCitizens, or it might be a more far reaching effort. We'll see.
Who: Cher Vick, a Long-Island based blogger and student.
Why: I grew grew up in Long Island, and went to the city on the weekends. My dad would always talk about how cities work, and how they go in cycles. We'd be in Brooklyn and he'd say, "You have no idea what this was like. Nobody was working here, nobody was walking there." So I've always had that perception: things evolve, people come in with different ideas. In NYC, that idea is kind of tapped out. There aren't young couples with a high school education buying a brownstone in Brooklyn and fixing it up. I started to investigate other historical cities within a two hour radius of NYC and came upon Newburgh. I saw all the ridiculously cheap housing, so I was like "ok, what's the deal?"
Getting Started: I started the blog because i was interested in real estate, cities, urban development, urbanization, adapative reuse, all of that stuff. I had a job at the time where I didn't do much, so I had loads of time to do research on Newburgh, the Downing Film Center, Newburgh Arts Supply, the historical society. It took a long time to find this stuff on my own. I wanted to put all of the good stuff in one place, so people don't have to do the digging, and stay out of the politics and all the drama. I just started writing things.
A Distance Barrier: I don't live in Newburgh, and I never have. I live in Long Island, and have been trying to make my way to Newburgh for the last 8 years. I've been in contact with two different houses and it's fallen through.
A-Ha Moment: One of my favorite stories I posted was about a warehouse that was for sale. The real estate listing didn't mention that the roof had collapsed, but we had dug up some other pictures pre-collapse that also weren't in there. In the end, they ended up buying it and said it was the blog post. I wasn't gaining so much monetarily from the website. But people were telling me they moved to Newburgh because of my blog.
Building Connections: I didn't have to physically be there. Over the years, I practically know everyone from every organization and every neighborhood that exists. even though we don't know each other face to face.
Dealing with Feedback: I've gotten every form of feedback you can possibly imagine. People felt it was too idealistic, that I'm only showing one point of view. I kind of feel that those same people who criticized it became the people who share the most information with me. I'm not some real estate developer coming in; I get no benefit out of it.
Working with Companies: I do get a lot of requests, but a lot of the time they didn't read my blog to begin with. They're offering something very superficially, and I can tell it was an email they sent to 300 people, some robot or something put in my name and my email. It has to benefit my readers in some way.
Relating to an audience: My blog has to try to relate to everybody. If you're a mom, a dad, someone with kids, no kids, millennial, you have to see someone you relate to on the blog in one way or another.
---
Fashion
Who: Gretchen Hirsch, a Beacon-based home seamstress, sewing teacher, book author and blogger.
Why: I worked as a children's book editor in the city, and in 2009, I was laid off from Harper Collins. I had a lot of free time… and sewing was my favorite thing to do in my free time. I was sewing my own clothes, I was always into vintage. I came across Vogue's New Book for Better Sewing, published in 1952. I started collecting all the patterns from the book and sewing them. I decided to start Gertie's New Blog for Bettering Sewing. It was a bad time for publishing, but it was a great time for blogs.
A-Ha Moment: When I first started my blog, I was just focused on making things, and the commenters were really engaged. The first angry comment I got really shifted things for me. It was something like, "I don't understand why you're so into 50s fashion, it was a terrible time for women, why can't we move on from that?"
I wrote a blog post about it, and it got over 100 comments, and for the first time I thought "wow." My audience didn't just want sewing, but what does sewing mean for feminism. From then on, I just wrote about whatever came to mind, and it was a wide variety of stuff: tattoos, feminism, sexuality, and it turns out many women who sew want to talk about that stuff online.
Audience: Where I was coming from accidentally gave me this demographic: I was writing about sewing, but also feminism and I have tattoos, so people just identified me as a young hip sewing blogger. It helped me attract this group of women who identify as feminists and also like girly stuff, and we're all interested in learning how to sew. That was my core audience from the start.
Sponsored Content: I get approached a lot about sponsored content, and I don't do much of it, really. It has to be a product I would buy anyway. If they want to give me free fabric in exchange for a transparent mention in a blog post about what I make with that fabric, to me that makes sense. For instance, B&J Fabrics in New York provided all the fabrics for my last book, Gertie's Ultimate Dress Book. They're gorgeous fabrics and it's a partnership that I'm really lucky to have. But I also get requests every day asking, can we do some monetary exchange to feature an unrelated product or a link, and I don't even look at those, they don't resonate for me. I want people to feel like what I'm putting out is really genuine. The monetary gain would be pretty minimal, so it's not really worth it if my audience is questioning my motives.
Evolution: People aren't as active on blogs as they used to be, so my Instagram and Facebook are where I'm getting the most action right now. I post at least once a day on Instagram, and it goes to FB and Twitter. People are interested in shorter form visual stuff now, which is great because I can do more of it. I still use the blog for instructional writing, and it's kind of my landing page too.
Future Plans: My plan is to keep doing more of the same… I'm doing more patterns with Butterick, which is great. I'm talking to my publisher about new books, and I have more fabric coming out soon at Jo-Ann Fabric and Craft Stores.
Dealing With Negative Feedback: Sewing people are really vocal about what they like and don't like online. I get a lot of immediate feedback, and it can be hard for me not to follow everything and go down a rabbit hole. It's way better for me to sit back and wait and see what sales are, what the overall response is, rather than taking apart every small piece of feedback I get, because there's so much. It's great, it's really good, but I feel like I have to be a little more strategic because people are so vocal about what they don't like. When you take all of those different pieces of advice to heart, you end up creating things that don't really work for anyone.
What's New: Gertie's Hudson Valley Sewing Retreats are back this fall; registration is open for the November 11-13 session in Beacon, NY.
---
Animals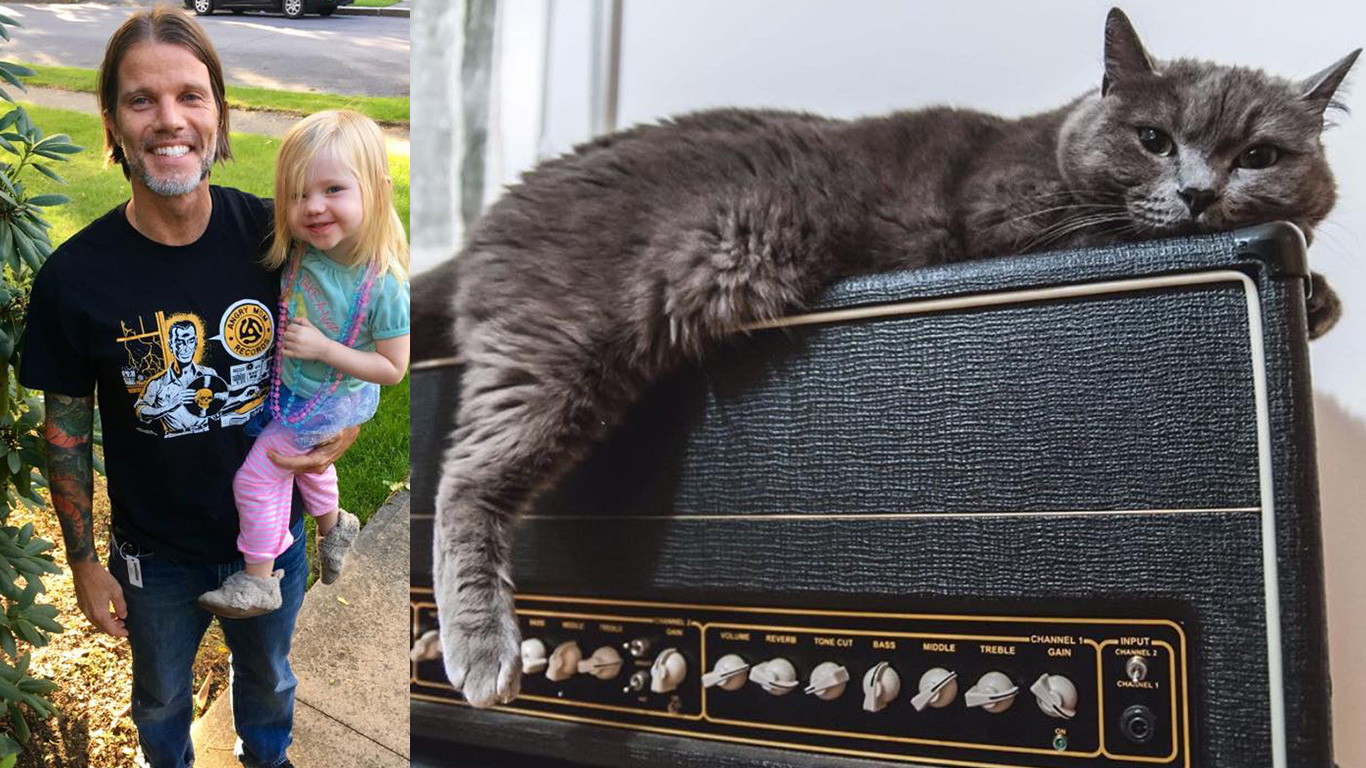 Who: Mike Vitali, a clinical social worker, owner of Magnetic Eye Records and metal guitarist who lives in Albany, NY. He's been managing the Cats on Amps Instagram account since 2014.
Why: A friend of mine who's really into vintage amps started the Cats on Amps account, and it had a few hundred followers or whatever. I posted a picture of my cat Dulce on an amp, and he reached out to me to suggest that I take over the account for him. I was sitting in the car with my wife, and we took the offer pretty seriously. It seemed like a bad idea: I have a regular job, plus I'm busy with the record label and music. But ultimately, I love looking at gear, learning about gear, and checking out some cats. I decided to play around with it, and just started posting the daily pictures, and told people to start sending me pictures and hashtag it.
A-ha moment: I saw someone who I'd never seen before jogging around Troy in a Cats on Amps shirt. Marshall Amps re-posted one of our pictures and it got five or six thousand likes.It was their third-most liked picture at the time; it was more liked than a picture of B.B. King and Jimi Hendrix, so that kind of blows my mind. And also the CEO of Shutterstock sent me a picture of his cat last Sunday. That was pretty cool.
Personal Impact: It's been a parallel thing with the record label, I've gotten to talk to Wired Magazine, picked up a lot of contacts with people in the media. I'm always looking for ways to involve more music and tie it in with the record label… we had a little songwriting contest and got some nice submissions.
Future Plans: I'm not entirely set on what I intend to do, for now it just seems like it's bringing together a nice community around music and pets and equipment. The calendar is the main thing right now, it's an annual calendar that we're doing on Kickstarter. We pick the best 12 submissions, and it was fun to decide which cat is good for October and Halloween, or the best one for for Valentine's Day
Pro Tip: My dad was actually an NYC cop, and he worked for the photo unit toward the end of his career. He really got into photography, and during the summer I would hang out at Shea Stadium at the crime lab, looking at a lot of photography. It kind of got me going on picking and choosing what makes a good photo. I try to think about photo quality, composition, which cats have an expression, what's appropriate for the day or season.
Advice for Brands: I've gotten a couple of small requests from brands so far. We're a pretty niche account but I'm open to it.
Inspiration: One of the things that makes it enjoyable is the fact that even though we're selling stuff like shirts and mugs and other things, it's not a business. It's just a social thing. I entertain ideas on what I should or shouldn't be doing with the account, but it always kinds of winds up being "eh, the more informal it is, the better."
What's New: Cats on Amps' 2017 Calendar is now available and shipping from their website.
Who: Bentley Potter, a Kingston-based photographer.
Getting Started: Four years ago, just kind of out and about, I noticed a certain missing dog flyer on a pole in a driveway. I could barely make anything out on it, but I thought there's gotta be a better way to reach people. It's the best way to get information out there and quickly. I made sure there was nothing else out there like it, and I took it from there. It took a while to get off and running, once people got familiar with it, it just kind of grew and went crazy.
A-Ha Moment: It was New Years' Eve going into 2013, and someone sent in "Marley in Beacon". He was a missing golden retriever, and I posted it and went to bed. I woke up the next morning, and the page was flooded with messages like "sharing in Maryland, sharing in California, sharing in Puerto Rico." Before that, it was strictly a Hudson Valley thing, but the dog just looked like the dog next door. It just hit home with people and went viral.
Evolving Over Time: In the beginning, it was just strictly posting found pet, missing pet, basic information. I got more comfortable with it, and you're able to put your personality on it. I put out a weekly reminder about preventative measures and tips, and engage the community more. Every now and then sharing something about how this started. It's not just sad stuff, every now and then we want to put in something light and cheery. It can get very gloom and doom.
Dealing with feedback: There hasn't been anything negative, because the majority of people like the way it's being operated. The biggest shock is how far these posts reach sometimes. That's really the big thing. Even the police are suggesting that people post on there. I'm blown away by the stories sometimes, like people having no idea their dog is even missing, and an hour later it's home. It just blows my mind sometimes.
Building a Team: Having a team has helped big-time. It got so big it turned into a full-time job. I didn't want it to suffer. I have the best team of 7 volunteers. We're all dedicated to the same goal. It allows us to operate day and night, there's no downtime. First thing in the morning, to 10 at night, the page is being monitored. I've never seen anything like it on other pages, where there's no down-time
Future Plans: We have a new website that has all the bells and whistles. It shows where the pet went missing, it has Google Maps, so you can narrow it down on a map. You can print out flyers that tie back to Lost Pets. It was a big jump, and next I'd like to expand to have people out in the field. To physically bring back a pet would be pretty cool.
Paying the Bills: We do accept financial contributions. For everyone who makes a financial contribution through support us, we're donating a can of food to a local animal shelter. I'm thankful for any donations that come in. All the time local animal shelters are in need of food and other supplies.
What's New: Lost Pets of the Hudson Valley offers sponsorship opportunities and accepts Paypal donations via their website.